The crew aboard the U.S. Coast Guard Cutter Stratton (WMSL 752) is finally returned to their homeport of Alameda following a 162-day deployment to the Western Pacific Ocean.
The ship crew patrolled and administered operations, including the enforcing United Nations Security Council resolutions against the Democratic People's Republic of Korea by gathering intelligence on vessels leading ship-to-ship transfers in the East China Sea, South China Sea, and the Yellow Sea.
They also involved in professional exchanges and visited ports in Fiji, Australia, Indonesia, Malaysia, and Fiji. The Crew members fought illegal fishing and handled area relations events and capacity-building exercises with allied navies and coast guards throughout the region.
This arrival comes after seven successful high seas fisheries boardings under the authority of the Western and Central Pacific Fisheries Commission (WCPFC) while on their transit between the Philippines and Guam. This part of their deployment is intended to deter illegal fishing of highly migratory fish stocks such as tuna. It also furthers relationships with Pacific Island Nations and Territories.
In the Philippines, Stratton crew boarded vessels that flagged from Chinese Taipei, inspected documentation, catch logs, fish holds, and conduct an interview with the crew. The ship also employed Unmanned Aircraft Systems (UAS) to expand horizons and locate vessels in the area. This operation allowed the crew to maximize the use of boarding teams and increase enforcement efforts over a short time.
Fish stocks are a global food source and provide economic stability for many countries managed correctly and not overfished. More importantly,. In the U.S. alone, the fishing industry employs 1.3 million people and contributes $199 billion per year to the U.S. economy, according to NOAA's 2012 Economic Report.
In the EEZs, of other countries with whom the U.S. has bilateral agreements, the Coast Guard won't conduct boardings without a ship rider from that host country. This procedure maintains the sovereign authority of the host country.
Commissioned in 2010, Stratton was the third of the Coast Guard's legend class national security cutters. The ships are 418 feet long, 54 feet wide and 4,600 long-ton displacement. A top speed more than 28 knots, a range of 12,000 nautical miles, an endurance of up to 90 days.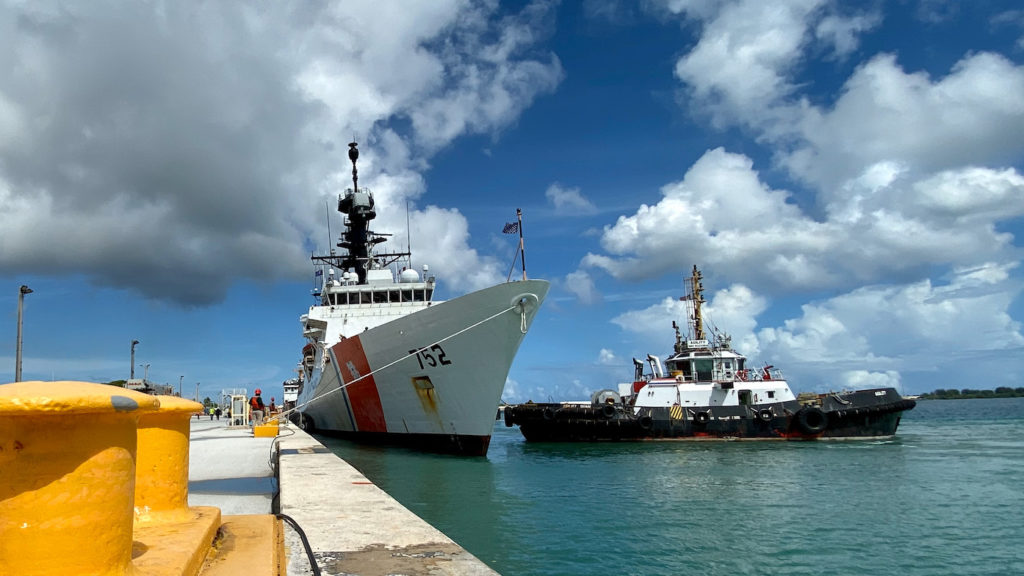 From Operation Talisman Saber off Australia to Sama Sama in the Philippines and Cooperation Afloat Readiness And Training in the Far East, these mariners have worked diligently with counterparts from the U.S. Navy and partner nations.
The 150 person crew has been on deployment under the operational control of the Navy's Seventh Fleet in the Indo-Pacific since June conducting joint missions. Their patrol concludes lately.